I'm sure you can all feel it in the air as much as I can. That new year vibe that is ripe with promise, goal setting, and the urge to PURGE ALL THE THINGS! Really though, I'm not much different today than I was on December 31st. Or even December 1st for that matter. But for some reason the weight of 2014 is left behind and we get to start fresh which I absolutely love!
What I've learned about myself over the years is that I need lists. I need to have things physically written out in front of me in order to accomplish anything. I'm a visual person and a good ol' list helps me prioritize and remember what it is that I'm trying to accomplish. Plus, I get this little thrill every time that I cross something off my list! Is anyone else like that? Kathy, my partner in crime back when I had an office job, and I used comment on our love of list crossing all the time. Sometimes, we'd write things on our lists after we'd complete them just so that we could cross them off and look like we'd accomplished a lot that day. True story. Don't be jealous of how cool I am! I also have a slight obsession with office supplies but that's another post for another day!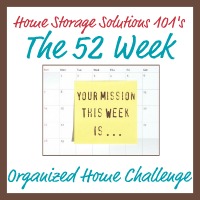 In the spirit of a fresh start and the great organizational push that it gives me, I've decided to jump on board with the 52 Weeks To An Organized Home Challenge: 2015 from Home Storage Solutions 101! This girl has thought of it all! There are weekly tasks, 15 minute daily tasks, printable calendars and lists that set my little heart aflutter! There's also a Facebook group called Declutter 365, as if I didn't already waste spend enough time on Facebook.
Today is the start date and we begin with Week 1 – Kitchen Organization: Countertops and Sink. This one is HUGE for me! Our home is open concept and begins as you step into our kitchen. It is the center of most of the action around here as it's right in the middle and when it's in chaos, you can feel it. The downfall to it being the main area of our home is that it tends to be a catchall for everything and things end up on the counters that have no business being there.
I dug up this old picture of our kitchen from waaaaaaay back when we first finished renovating a few years ago. Lots of things have changed but even then, the kitchen counters were a magnet for miscellaneous items! After this week is over, I'll take an updated photo (thankfully my photography skills have improved since then) and share it with you so you can see the progress! Plus, it's extra motivation to keep the kitchen clean if I'm going to be sharing it on the internet!
Are you participating in this challenge, or one like it? What is your biggest organizational struggle? I'd love to know!
If you want more updates on how this week is coming along, follow me on Facebook, Twitter, and Instagram!
This post may contain affiliate links. See here for more information.