If you've been around here for any length of time, you'll know that I love to DIY whenever I can. I love to cook from scratch when I can, I have posted about knitting projects, I recently got a sewing machine and am having fun playing with that and recently I've been working on a few crochet projects.
The thing that I love about crochet is that it works up so quickly. I also feel like it can be so much more relaxing and mindless than knitting because once you get going, you can almost turn on autopilot while watching TV or in my case, YouTube videos!
Speaking of YouTube videos, I actually found the pattern for this beginner crochet baby blanket there and then when I finished it, I found another video to add the scalloped edging to the blanket. So I'll link those videos here for you to check out. I am a very visual learner and sometimes just reading a pattern can be confusing for me so videos really help me to see that I am doing everything right. Keep going down to the bottom of this post for the written instructions as well.
Here is the tutorial video for the blanket.
And here is the video for the scalloped border.
Here are the written instructions for the blanket:
Foundation Chain: Chain a multiple of 6. In the video, she chains 42, I used a finer yarn and wanted a bigger blanket so chained 120.
Row 1: 2 dc (double crochet) in 4th chain from hook. Skip 1 ch (chain), 2 dc, skip 1 ch and continue this to the end of your row. In the last chain, 1 dc. Chain 3 and turn your work.
Row 2: 1 dc in first chain, *skip 1 ch, 2dc*, and repeat the instructions between the *'s. The dc's should be in the middle of the V's from the previous row. Just like in the last row, finish with 1dc in the last chain. Chain 3 and turn your work.
Continue this pattern until the blanket reaches the size that you want. I just went until I ran out of yarn.
Scalloped Border: Single crochet all around the outside of the blanket to give a good foundation to crochet into.
Skip 1 chain, 5 dc into next chain, skip 1ch, 5 dc into next chain, and repeat all the way around. That's it!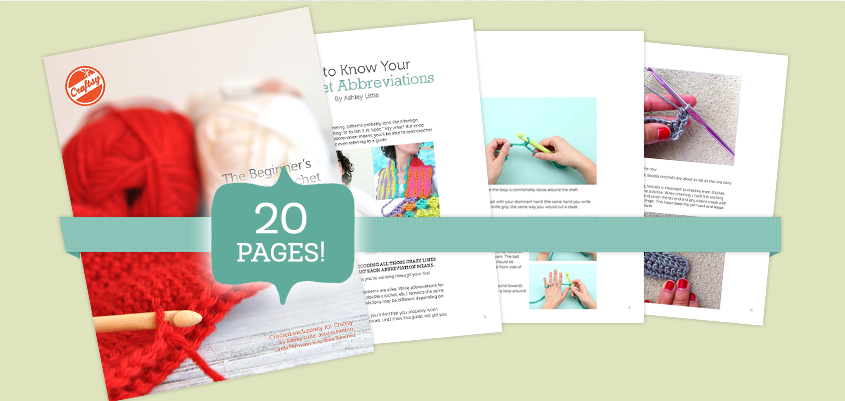 Here are the materials that I used:
The yarn I used in a minty green, and a creamy white, but that's the Bernat Baby Sport brand.
There are so many great resources online to learn to crochet including this eGuide: The Beginner's Guide to Crochet which is great, or you can just search YouTube for videos like me! Either way, it's a super easy hobby to try! It's also really addictive to see your own creations being used and loved by others, which I think is a big driving force for my love of all things DIY!
Check out my Knitting and Crochet Pinterest Board for some awesome patterns and tutorials!
Follow HappyPrettyBlog's board Knitting & Crochet on Pinterest.


Save
Save
This post may contain affiliate links. See here for more information.